PU Round Polyurethane Cords
We are leading supplier of PU Round Polyurethane Cords
Applications: Textile drives, lineshaft conveyor shafts, light drives, transfer conveyor drives, tile or brick industries, food and pharmaceutical industries.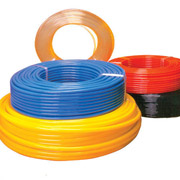 Polyurethane Cord and Tube
We deliver cords that are of high grade and satisfy our customers in terms of quality. Our Mont Flex PU Round Polyurethane Cord is famous in the entire market. It is known for its longer operational life. We entertain medium or bulk size orders. Our clients are also based in other countries and we export our products on a regular basis.